Earth-E Month 2020
Join ERCA as we celebrate Earth-e Month in our very own homes and neighbourhoods. Each day in April includes an Earth Day activity or item that you and your family can enjoy. Celebrate Earth Month with us and to stay connected to our shared planet, our region, and each other.
---
April 1 – Monarch Butterfly and Milkweed Presentation
April 2 – Take the Earth Day Pledge!
We are partnering with the Detroit River Coalition to invite all of you to join eEarthDay in an effort to exhibit how our small, individual actions TOGETHER will have big environmental impact.
In honour of Earth Day's 50th anniversary, take the pledge to choose one single-use plastic item that you use frequently and swap it out with its reusable alternative. Share your swap on social media with the #eEarthDay hashtag.
Learn more about Earth Day with the Detroit River Coalition
April 3 – Earth Day Contest for Students
Tell us how you are taking action on climate change! Individual actions for the environment can create ripple effects that inspire and motivate others. Whether it is spreading the word on social media or creating a poster to hang in your school, we want to know how you are making a difference. Students can submit illustrations, essays, poems, or photos.
This contest is closed.
April 4 – Leave the Leaves
Today's Earth-E Month tip is to leave the leaves in your garden! In this video, we provide some valuable insight into why leaving your leaves can be so beneficial to the health of your lawn and garden.
April 5 – Go On A Micro-Hike
Looking for a fun outdoor activity for kids? Try taking a Micro-Hike today. You won't even have to leave the backyard.
April 6 – Education Resources
In an effort to support our local families and educators, Essex Region Conservation is proud to present this collection of educational materials so that our community can continue to learn and grow in the Place for Life.
April 7 – Climate Action with Compost
Food waste is a major driver of climate change. Even our food waste that ends up in landfills is part of the problem. Here is how you can build a composter right in your own back yard, out of materials you may already have on hand.
April 8 – Water Quality in the Essex Region
In this Facebook Live video, Dr. Katie Stammler of ERCA teaches us about harmful algal blooms, water quality, and how each of us can play our part in keeping our water safe.
April 9 – TBT: River Canard Park Restoration
Have you visited the River Canard Park before? Check out our #throwbackthursday photos! The restoration goals for this project included improving fish habitat for over 25 fish species that frequent River Canard and provide shoreline erosion protection. A variety of shoreline techniques were used here. Project partners added a diversity of stone types, shapes and sizes to create space for fish eggs and invertebrates to use during their life cycle. This project also increased the overall shoreline length (by changing its shape) and created a deep water pool for fish habitat. Native plants were added along the walking path by volunteers to attract pollinators and provide habitat to birds, insects and other wildlife. The park has a small boat ramp which will allow access by kayakers and canoeists. Project partners included DetroitRiverCanadianCleanup, Friends of Canard River, Town of LaSalle, Town of Amherstburg, Environment and Climate Change, Ontario Ministry of Natural Resources and Forestry, Ministry of Environment Conservation and Parks, Essex County Stewardship Network, Amherst Quarries Ltd., and West Windsor Power.🐟🦋🌳🛶
April 10 – Health, Wellness, and the Outdoors
Spending time outside for just twenty minutes a day is a great way to improve your overall health and happiness! People who spend time outside, whether they are just relaxing and connecting to nature, feel more relaxed and more focused.
During this time, our Conservation Areas and trails are open for walk through recreation only. When visiting, we recommend not congregating in groups. Please be sure to do your part to #FlattentheCurve.
Our Outdoor Recreation Map outlines all of our great Conservation Areas, trails and other beautiful places in the #PlaceforLife to get your dose of #VitaminN
April 11 – Trees Waking Up in the Spring
Growth cycles of trees in Canada are influenced by changing seasons. Their growth period begins again in the spring as longer days and warmer temperatures signal to break their dormancy, open buds, start tree sap flow and prepare for vigorous growth!
Check out this blog article written by Justin Létourneau
from Tree Canada / Arbres Canada that uncovers the mystery of how trees know when to wake up in the spring.
https://treecanada.ca/…/how-do-trees-know-when-to-wake-up-…/
April 12 – Bird Photo-Puzzle
Name that bird! Check out this exciting bird photo puzzle posted originally by the Cambridge Historical Society!
Take some time today with your family to decipher the puzzle together. Here is the answer key!
April 13 – DRCC Colouring Pages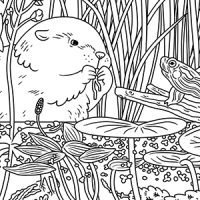 Today for Earth-E-Month, show your love for the Detroit River creatively! Our friends from the Detroit River Canadian Cleanup have these amazing colouring pages that you can download and print.
Share your artwork with us too!
April 14 – Did You Know? Biodiversity in the #PlaceForLife
Windsor-Essex County is home to some of the rarest plant and animal species across Canada! Our area is also the most diverse across the country. Essex County includes an estimated 2,200 species of herbaceous plants, 64 species of ferns, 110 species of grasses, over 130 species of sedges and 70 species of trees. Over 400 species of birds have been recorded in this area, which is over half found in Canada. Check out the Essex County Field Naturalists Club for more examples of amazing biodiversity in the #PlaceForLife
April 15 – Learn with ERCA – Eastern Screech Owls
Join ERCA's Environmental Educator Samantha Keller as she gives a talk on the Eastern Screech Owl.
April 16 – Throwback Thursday: Rotary Hub Planting
Have you explored the RotaryClubofWindsor(1918) Hub trail yet? This trail is 3km, starting at Howard Avenue and Laurier Parkway and connects to the ERCA Chrysler Canada Greenway, Herb Gray Parkway Trails AND the Town of LaSalle trails! You can cover lots of ground in the Place for Life! Here are some great #throwbackthursday ERCA photos of @RotaryDistrict6400 members planting trees along the trail, as well as an album from Snapd Windsor.
April 17 – Try and Energy Audit
Save energy while at home! Did you know that one of the easiest ways to save on your energy costs is by installing a Smart Thermostat? Enbridge offers a $75 rebate on smart thermostats. There are other home energy strategies that you can do today, such as keeping your thermostat low, turning off any unused lights and appliances, etc.
Want to go a step further? Try a DIY home energy audit! Or, as a family, try calculating your ecological footprint or carbon footprint.
April 18 – BEE A Good Neighbour! Build a Bee Hotel
You've got to love bees! Helping out pollinators is a great way to participate in Earth Month, and one way do that is by providing good habitat for our local bees. Follow along as ERCA's Multimedia Specialist Aaron Zimmer talks about building a proper bee hotel with simple tools you might find around your own home.
Did you know that Ontario has about 400 species of native bees? Most of those species are solitary. They build nests and lay their eggs all on their own, without the help other bees, and spend most of their lifecycle inside that safe nest. Having a safe, good place is critical for our bee friends to thrive. View bee hotel ideas from the Xerces Society for Invertebrate Conservation, Bee Hotel Guides from the David Suzuki Foundation, And how to care for mason bees year round.
April 19 – Spring Ephemerals
A sure sign of life can be found all around a forest floor right now across the Place For Life. An ephemeral plant has a short life cycle. Forest spring ephemerals are perennial plants that grow quickly through the leaf litter as the sun warms up the soil without any overhead canopy leaves to block
sunbeams. Ephemerals like Trout Lily, Bloodroot, Wild Ginger, Mayapples, Jack-in-the-Pulpit, Yellow Bellwort and Trilliums blossom quickly to encourage insect pollination, usually by ants! Once the leaves of the overhead trees and shrubs begin to sprout, the ephemerals die back, almost as if they were never there. Enjoy your spring hikes and admire the diversity and beauty of these special plants. Please restrain your urge to possess it or pick them.
April 20 – The History of Earth Day in Windsor-Essex
Check out this blog post written by our Partnerships and Outreach Coordinator sharing the history of Earth Day and the significance of this internationally celebrated day to the Place for Life.
April 21 – Forests Ontario At Home Education Resources
While school's out for the time being, there are so many opportunities to learn about forests, trees, soil, wildlife that live in these ecosystems and incorporating trees into art! Check out this great collection of lesson plans, webinars and activities developed by @ForestsON you can do at home together.
April 22 – ERCA Thanks Essential Workers
In honour of Earth Day 2020, we wish to express our sincerest appreciation to all those who are working to keep us safe.
April 23 – Throwback Thursday: Jamieson Forest
Today, we continue to Celebrate Earth Week with a #ThrowbackThursday post, recognizing Jamieson Laboratories and their 10 year partnership with ERCA to reforest 121 acres of former agricultural land on the shore of Lake Erie, named the Jamieson Forest.
More than 72,000 trees were planted to offset Jamieson's wood-fibre consumption over that period. This forest, located in the Cedar Creek watershed, contains more than 25 species, including maple, oak, hickory, cedar, walnut, sycamore, sumac, tulip tree, basswood and dogwood.
This model demonstrates leadership in corporate social responsibility and the Essex Region Conservation Foundation – and all residents of the Windsor-Essex-Pelee Island region thank Jamieson Laboratories for their leadership in planting trees to improve habitat, improve water quality, reduce the impacts of flooding and help mitigate climate change.
April 24 – Did You Know? Lake Sturgeon Project
Did you know, The Detroit River Canadian Cleanup, Alpena Fish and Wildlife Conservation Office Essex Region Conservation and U.S. Fish and Wildlife Service researchers estimate there are over 6,000 Lake Sturgeon in the Detroit River?
They can grow to more than 7 feet long and weigh more than 300lbs! Lake Sturgeon were once widespread in the Great Lakes, including the Detroit River. Sadly, the current population today is only approximately 1% of what it was historically.
Partnering efforts across Canada and the US have created spawning reefs in the river and success has been rapid, with spawning fish almost immediately!
April 25 – The iNaturalist App & Citizen Science
Discover the amazing diversity of your backyard this spring by joining iNaturalist! This free app lets you connect with others in your neighbourhood and around the world and share information and photos
about biodiversity while contributing to expanding knowledge of flora and fauna. From a local perspective, there are a few groups dedicated to different categories of wildlife and plants in Windsor-Essex.
Check out the project called Basidiomycota of Essex County, Ontario to see over 1,100 observations of fungus growing here! There's another group called Shorebirds of Essex County, Ontario with quite a few species recorded at Hillman Marsh Conservation Area! Get started by downloading the iNaturalist app on your iPhone or Android, or visit the website on your
computer. Start your account, take some photos, include some information, upload your observations and become part of the the iNaturalist community!
April 26 – The Impact You Have Created in The Place For Life
Each year, ERCA's partnerships and Outreach Coordinator Gina Pannunizo and her team plan for 1,200 volunteers to plant over 2,000 trees at the annual Earth Day Tree Planting. Normally we would be getting everything ready you to join us today, but while we are not able to celebrate with you in person, we want to share with you the amazing impact that you have had in the #PlaceforLife.
April 27 – Partners For Sustainability
In February, we launched the Partners in Sustainability program, creating an opportunity for local businesses and organizations to demonstrate environmental corporate responsibility. Learn more about our first partner, WindsorEats!
April 28 – Springtime Leaf Rubbing Activity
Spring time brings lots of new plant life around us to see, smell, and study! Follow these instructions to make a leaf rubbing.
We also have more #Unbeleafable educational resources for elementary school students on our website!
April 29 – All About Chimney Swifts
Join John R Park Homestead Curator Kris Ives as she gives a Facebook Live talk on Chimney Swifts!